SCR Gold Booster Serum - Skin Cell Regenerator with Vitamin C Plus
This is your must have product
Regular price

Sale price

$90.00
DESCRIPTION

This is our signature product and should be your 'must have' product in your daily skin care routine.

The SCR Gold Serum is the ultimate antioxidant serum; reversing and delaying the ageing process, restoring skin elasticity & protecting the skin from further damage.

Powerpacked with clinically proven actives of pure plant marine extracts, hyaluronic acid, colloidal gold, vitamin C ester, vitamins A and E, willow bark, humectants and natural UV protection.

NO Parabens
NO Petrochemicals

--> Check out our News and Media Page to find out which celebrities love this product.

Without the need for chemical peels, surgery and invasive treatments, Cetuem Gold provides beautiful skin.

Cetuem Skin is for life. #BeautyGold
BENEFITS

- Encourage and promote flawless skin
- Increase collagen and elastin production
- Reverse signs of ageing
- Combat ageing process
- Prevent the appearance of fine lines
- Diminish fine lines
- Deeper lines become finer
- Regain skin elasticity
- Promote an even and healthier looking skin tone
- Capture highly destructive free radicals
- Protect and treat the skin with its powerful antioxidants
- Protect the skin from harmful external factors of the environment
- Draws moisture to the skin
- Improve texture and smoothness.
Skin Concerns

Anti Ageing
Acne, Spots & Open Pores
Firmness & Lifting
Pigmentation
Sensitivity

HOW TO USE

Apply morning and night

After cleansing the skin with the SCR Skin Cleanser and SCR Skin Toner, apply and massage thoroughly morning and night to the entire face, eye, neck and décolleté area.

Normal To Oily Combination Skin Types:
- Follow or Combine the SCR Gold Serum with the SCR Skin Emulsion.

Dry and Dehydrated Skins Types:
- Follow or Combine the SCR Gold Serum with the SCR Rejuvenate Complex.

Uneven, Pigmented and Sallow Skin Types:
- Follow or Combine the SCR Gold Serum with Following the SCR Creme De Lite, Illuminating Emulsion or Illuminating Complex.
Key Ingredients

Hyaluronic Acid
Colloidal Gold
Rich in salicins and tannins
Wheat Proteins
Vitamin C Ester
Vitamin E
Vitamin A
Borage Oil
Commiphora Makul Resin Extract
Pelvetia Canaliculata Extract
INGREDIENTS

GLYCERIN (VEGETABLE DERIVED), PROPYLENE GLYCOL, SALIX NIGRA BARK EXTRACT (WILLOW BARK), SODIUM ASCORBYL PHOSPHATE (VITAMIN C), PEG-7 GLYCERYL COCOATE, PELVETIA CANALICULATA EXTRACT, COMMIPHORA MUKUL RESIN EXTRACT, SODIUM HYALURONATE, GOLD, HYDROLYZED WHEAT PROTEIN, HYDROLYZED RICE PROTEIN.

Ingredient list may change slightly every so often. Please check the ingredient list on the product packaging before use.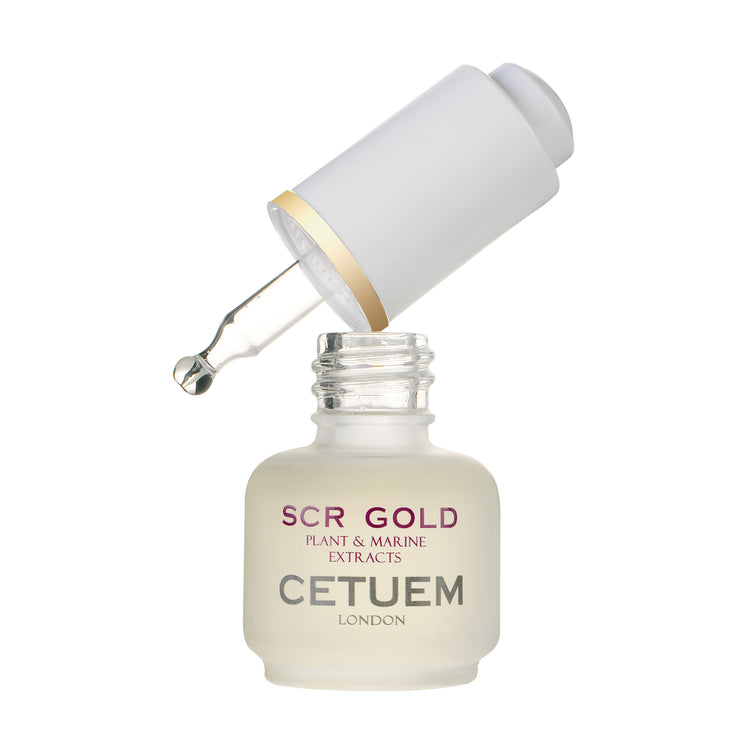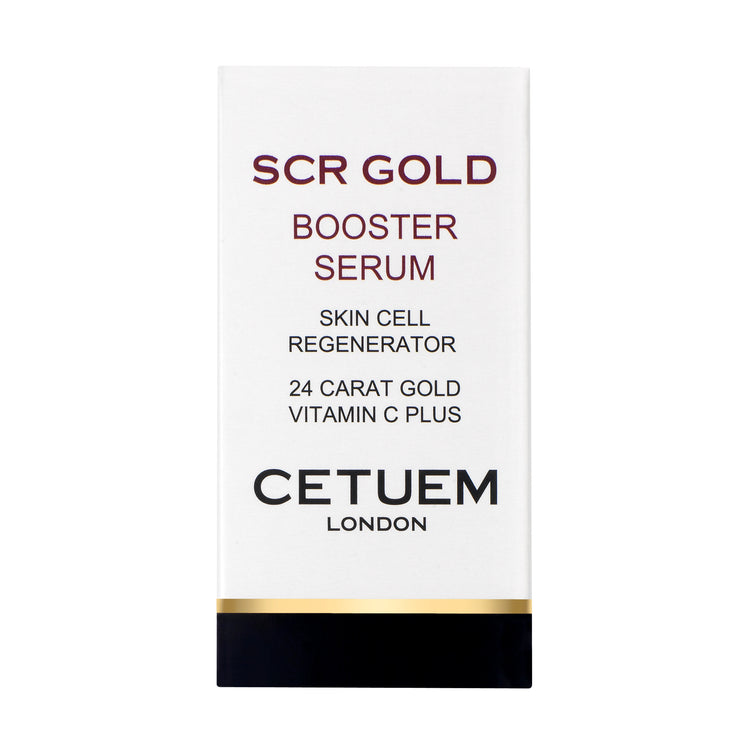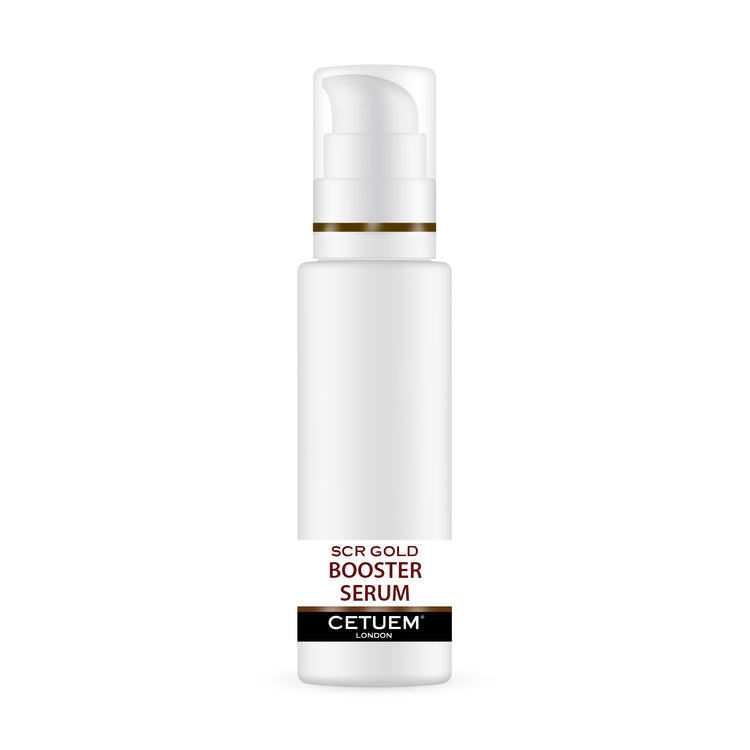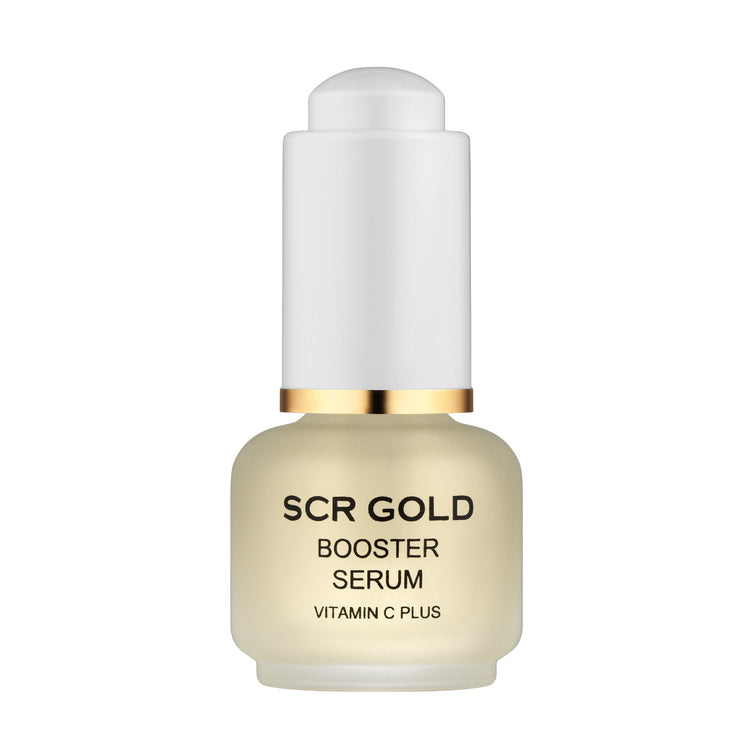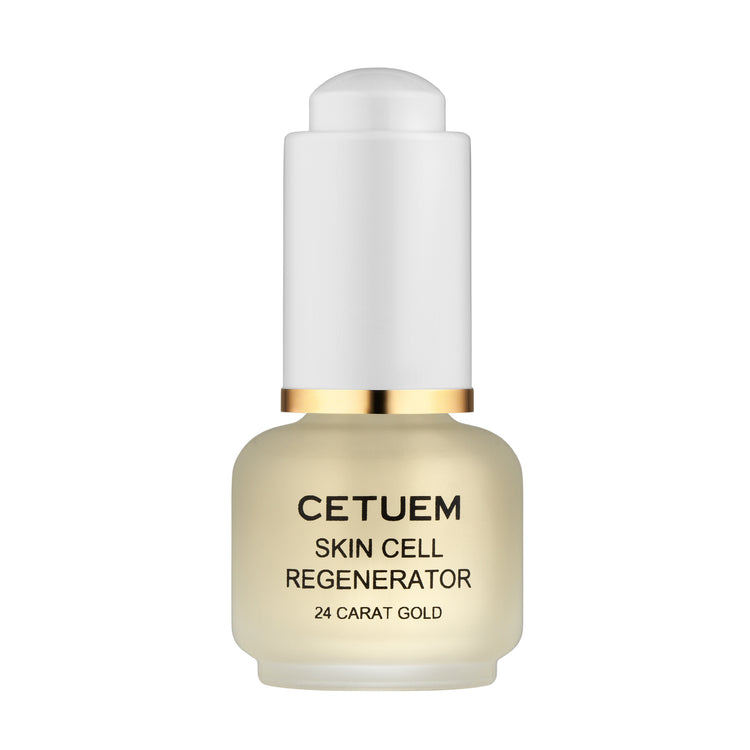 ULTIMATE ANTIOXIDANT SERUM
Willow Bark
Improve texture & smoothness
Hyaluronic Acid
Combat the ageing process
Lives Up To One Of The Best Serums - Face looked glowing healthy well hydrated, love the texture and ease of use

Jeanette T

Great products. I'm an Aesthetician, MUA, in the US, and recently discovered Cetuem, absolutely wonderful skin care that is effective. I live in a very dry climate, it's done wonders for my fair skin. Can't say enough about it, and will be recommending it. Kudos to Cetuem!

Wendy Freeman

Best Serum in the World. I have been using the SCR Gold Booster Serum for over 20 years and wouldn't change it for any other product in the world. It has closed and refined my open pores, my skin is always moist and plumped and youthful despite my 66 years of age. I recommend it to everyone, irrespective of age. In the past I kept trying everything on the market without success. I absolutely love the SCR Gold Booster Serum.

Efti Hadjigeorgiou

Liquid Gold.. This Gold Serum is so good for my skin. It has taken years off me, everyone says how well I look and often ask if I have had any work down on my face.

Liz Iaquinandi

Fantastic Serum. Fantastic product. Would not be without it. My skin looks more youthful today than 10 years ago.

Lia Papayianni